Challenges to Continuous Improvement:
To reach this goal, the business wants to further improve efficiencies at various stages in their business process, including; quicker sourcing, improved installation times, better traceability of products and efficient production. Meeting these demands comes with the additional challenge of finding and retaining 'the right' staff who are willing to continuously strive to find ways to streamline and increase efficiencies within the business whilst also staying abreast of ever-changing technical knowledge relating to their product range.
Skills Training to Support Ambition:
Pipeline Products managing director, Matthew Jones, said: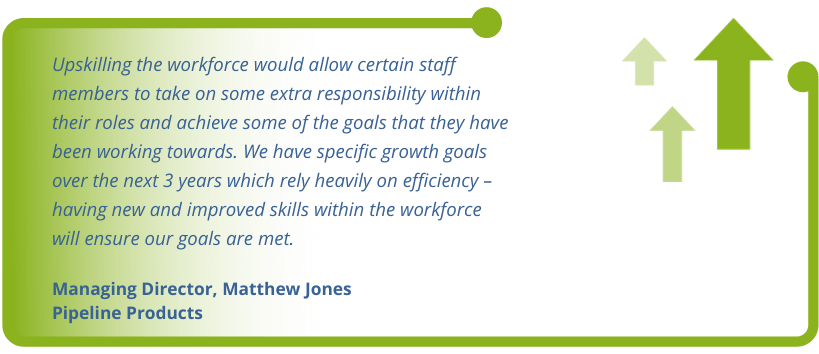 Weston College worked with Pipeline Products to identify areas where training was needed to overcome challenges through a Training Needs Analysis. Several areas were identified; Leadership, Warehousing, Customer Service and Digital Security. The company already has a good appraisal system in place to ensure they are aware of individual goals and aspirations.
Generally, all staff wanted to improve their position and benefits; the training implemented allowed staff the opportunity to develop their current roles further and, in some cases, move into more senior positions.
Impact of skills training:
On completion, training is expected to motivate the workforce and increase engagement within the company.
Matthew Jones, continues:
"We are always aiming to develop a company culture of teamwork, respect and recognition which is sometimes hard to communicate to all employees. By providing further training, we hope to enhance individual perceptions of their own abilities and the company's commitment to their progression."
Five members of staff undertook training course which were applicable to their job roles, these range from:
Feedback from the staff has been positive, with Matthew concluding:
"The general impression is that they have been motivated and excited by the prospect and enjoying the courses as they progress.

The progression of staff on the courses is varied but the training provides opportunities for each of them to work in areas they didn't before and provide more value through their roles to the business. The intention is to give each employee room to implement the techniques that they have learnt and react with further training or responsibilities from there."